Who says wired earphones are not in trend? Have a look at Crossloop's Pro Series Designer Earphones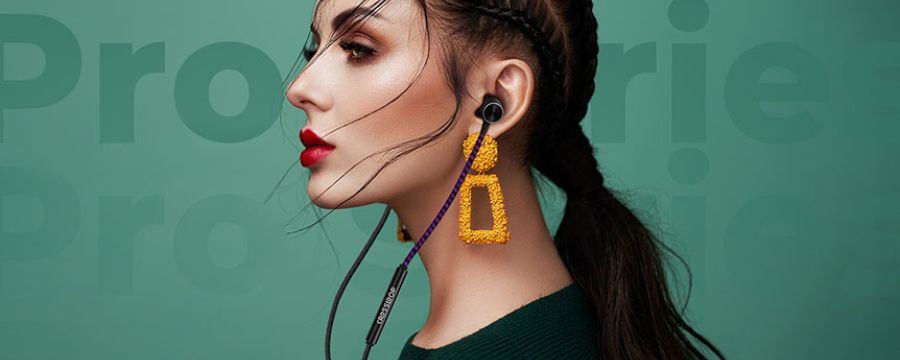 We are absolutely thrilled to introduce you to the Pro Series Designer Earphones, the ultimate choice for music lovers who crave both style and functionality. These earphones are not only a treat for the ears but also a feast for the eyes with their stunning and colorful design. The braided cable adds a touch of elegance while also ensuring that the earphones remain tangle-free, allowing for hassle-free usage.
        Not only do these earphones look amazing, but they also deliver an exceptional audio experience. The 10mm diaphragm provides rich and deep bass, giving your music that extra oomph. The 3D acoustic technology enhances the sound quality, making every beat and note come to life. Whether you are listening to your favorite tunes or enjoying a podcast, these earphones will transport you into a world of immersive sound. 

       In addition to their incredible sound quality, these earphones are also incredibly comfortable to wear. The snug fit ensures that they stay in place, even during intense workouts or when you're on the go. The light weight design makes them hardly noticeable, allowing you to wear them for extended periods without any discomfort. 

      Durability is another standout feature of these earphones. Made with high-quality materials, they are built to last. No more worrying about your earphones breaking or wearing out quickly. These Pro Series Designer Earphones are designed to withstand the test of time, ensuring that your investment is worth every penny. 

      One of the most convenient features of these earphones is the easy-to-use mic. With this built-in mic, you can effortlessly take calls without having to hold the mic up to your mouth. It allows for hands-free communication, making it perfect for those who are always on the move. 

      Lastly, the play, pause, and volume buttons on the earphone cable provide added convenience. With just a touch of a button, you can control your music playback or adjust the volume without having to reach for your device. It's all about making your listening experience as seamless and enjoyable as possible. 

      In conclusion, the Pro Series Designer Earphone is a true gem in the world of wired earphones. With its braided cable, colorful design, metal bass, light weight build, snug fit, comfortable wear, 10mm diaphragm, durability, easy mic usage, 3D acoustic technology, and convenient control buttons, it offers an unbeatable audio experience.

     Say goodbye to tangled cables and hello to pure musical bliss with these tangle-free earphones!